4th of June 2009
What Will My Baby Look Like
Ever wondered what your baby would look like?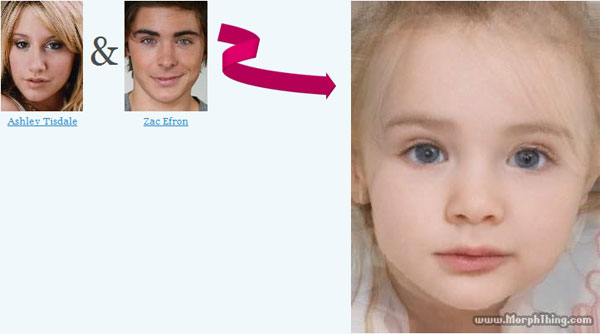 Well now on Morphthing.com you can find out. Just go to the "
Start Morphing
" page, select two parents - either from our celebrity photos or upload your own - and click the "Morph Baby" button. Our system will do the rest!
This feature is currently being tested so if you have any suggestions or questions, just leave a comment.
Comments on this article


Lisa Anderson (2 days ago)
199






Patricia John (A week ago)
197






Julianna Davis (A week ago)
195






james (A week ago)
193






Julianna Davis (A week ago)
191






Natasha Thompson (3 weeks ago)
189






Jose Ball (3 weeks ago)
187






Carl Carolyn (3 weeks ago)
185






Katherine Griffith (Last month)
183






Felix Niederhauser (Last month)
181






Jorge Pedro (2 months ago)
179






Vicki Henry (2 months ago)
177






Edwin Dicine (2 months ago)
175






Raccoon Picnic (2 months ago)
173






Henry Grant (3 months ago)
171






Edwin Dicine (3 months ago)
169






Brenda Logan (3 months ago)
167






Victoria (3 months ago)
165






kate (3 months ago)
163






Julianna Davis (3 months ago)
161






Robert Morrison (3 months ago)
159






John Goodman (3 months ago)
157






John Goodman (3 months ago)
155






Braenda Logan (3 months ago)
153






Vivian Marcus (3 months ago)
151






Dannie Scott (3 months ago)
149






Leo (3 months ago)
147






james (4 months ago)
145






Evelyn Dawson (4 months ago)
143






Natasha Thompson (4 months ago)
141






Julianna Davis (4 months ago)
139






Vivian Marcus (5 months ago)
137






Katherine Griffith (5 months ago)
135






Vivian Marcus (5 months ago)
133






Vivian Marcus (5 months ago)
131






Debbie Arnold (5 months ago)
129






Nelson (5 months ago)
127






[email protected]
(5 months ago)
125






Evelyn Dawson (5 months ago)
123






Natasha Thompson (5 months ago)
121






Vivian Marcus (6 months ago)
119






Natasha Thompson (6 months ago)
117






Julianna Davis (6 months ago)
115






Natasha Thompson (6 months ago)
113






Emily (6 months ago)
111






Recovery Intel (6 months ago)
109






Vivian Marcus (6 months ago)
107






oliviastephen (6 months ago)
105






morgan ann (6 months ago)
103






Emily (6 months ago)
101






Julianna Davis (6 months ago)
99






Mr Elijah (6 months ago)
97






Mr Elijah (6 months ago)
95






Melinda (7 months ago)
93






Temira (7 months ago)
91






Dr Ofua Ofure (7 months ago)
89






Maude Robert (7 months ago)
87






Leonie Klaus (8 months ago)
85






Matilda Bauer (8 months ago)
83






Dorothy Summerhill (8 months ago)
81






Kimberly Williams (9 months ago)
79






shirleesanders (9 months ago)
77






Josie Wilson (10 months ago)
75






Josie Wilson (10 months ago)
73






LORI J BURNS (10 months ago)
71






FAITH (10 months ago)
69






nevaeh (10 months ago)
67






BLANK ATM CARD (10 months ago)
65






Bermudez Sandra (10 months ago)
63






Josie Wilson from USA (11 months ago)
61






Josie Wilson (11 months ago)
59






Nobert Lauren (11 months ago)
57






Violeta Lindgren (11 months ago)
55






Haven (11 months ago)
53






shirlee (11 months ago)
51






morgan (A year ago)
49






kirsten (A year ago)
47






cindybyrd (A year ago)
45






Robin (A year ago)
43






jame4s anna (A year ago)
41






Patricia Busking (A year ago)
39






Jason Bennett (A year ago)
37






Cindy Byrd (A year ago)
35






Cindy Byrd (A year ago)
33






alycia (A year ago)
31






CECILIA ADAMS (A year ago)
29






jessica (A year ago)
27






HANNAH (A year ago)
25






BLANK ATM CARD (A year ago)
23






BLANK ATM CARD (A year ago)
21






carol freeman (A year ago)
19






CECILIA ADAMS (A year ago)
17






Jones Kenneth (A year ago)
15






cindy byrd (A year ago)
13






belin (A year ago)
11






jane jane (A year ago)
9






Aileen (A year ago)
7






Maria (A year ago)
5






FAITH (A year ago)
3






Gavin Wear (A year ago)
1