5th of May 2011
How to Make Your Own Baby!
Here are step-by-step instructions on how to make your own baby using MorphThing.
Step 1 - Choose your photos
You should have a photograph of each parent that is facing forwards with nothing obscuring the face, like glasses or hair: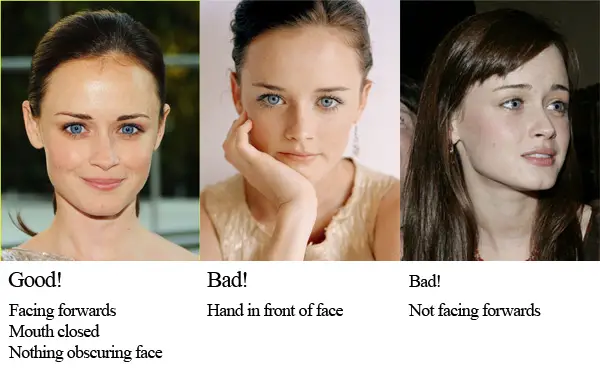 Next, go to
http://www.morphthing.com/upload
. From there you can either upload photographs from Facebook or use photos on your computer. Make sure you upload every photograph you want to use.
Step 2 - Prepare your photos
After you've uploaded your photos you need to prepare them. Go to the
My Images
page. Click the "Prepare" link next to the image you want to prepare and follow the instructions.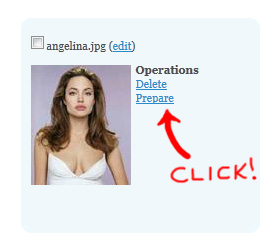 Step 3 - Morph!
Once you've prepared the images you want to use, go to the
Start Morphing page
. Click on the Prepared Images tab to chose your prepared images as each parent. Then click on Morph Baby to make your baby!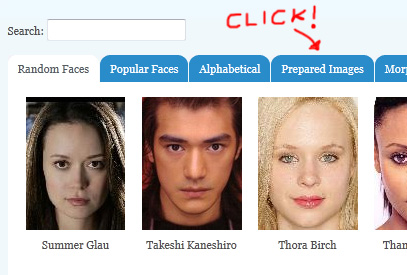 Comments on this article


Vivian Marcus (6 days ago)
199






Unknown (A week ago)
197






Liz (2 weeks ago)
195






Liz (2 weeks ago)
193






juwan james (2 months ago)
191






Simon may (3 months ago)
189






Bruno Helga (3 months ago)
187






MICHAEL BAY (4 months ago)
185






HLEB (4 months ago)
183






kate simon (4 months ago)
181






Emily (4 months ago)
179






Nora (4 months ago)
177






Elisa (5 months ago)
175






Josie Wilson (7 months ago)
173






Josie Wilson (8 months ago)
171






Josie Wilson from USA (8 months ago)
169






Josie Wilson (9 months ago)
167






timothy (9 months ago)
165






timoty (9 months ago)
163






leura (10 months ago)
161






timoty (10 months ago)
159






kirsten brown (11 months ago)
157






Theresa smith (11 months ago)
155






Jason Bennett (A year ago)
153






Cindy Byrd (A year ago)
151






Cindy Byrd (A year ago)
149






olivia (A year ago)
147






damy emma (A year ago)
145






carol freeman (A year ago)
143






cindy byrd (A year ago)
141






CONGRATULATIONS (A year ago)
139






jojo ivan (A year ago)
137






Cleo Henderson (A year ago)
135






HOW I GOT MY EX BACK (A year ago)
133






Lily (A year ago)
131






SCOTT WYCOFF (A year ago)
129






jojo ivan (A year ago)
127






rebecca (A year ago)
125






Faith (A year ago)
123






COOKEY DEWAR (A year ago)
121






SUSAN PETERS (A year ago)
119






MORRISON DUKEMAN (A year ago)
117






Szcottish (A year ago)
115






faith (A year ago)
113






Richard (A year ago)
111






Lerynne West (A year ago)
109






Лох (A year ago)
107






juwan james (A year ago)
105






Elisa (Two years ago)
103






benito (Two years ago)
101






Miss Sharon (Two years ago)
99






Michael (Two years ago)
97






Nancy Brown (Two years ago)
95






williams (Two years ago)
93






karlsson (Two years ago)
91






Cristine (Two years ago)
89






Sharon (Two years ago)
87






Duc Nguyen (Two years ago)
85






mary (Two years ago)
83






gary (Ages ago)
81






peyton (Ages ago)
79






munilah (Ages ago)
77






Rebecca Eller (Ages ago)
75






Michelle Carlos (Ages ago)
73






mary jane (Ages ago)
71






Engel angel (Ages ago)
69






LOAN (Ages ago)
67






morgan (Ages ago)
65






Linda (Ages ago)
63






brenda (Ages ago)
61






james eric (Ages ago)
59






joyce benson (Ages ago)
57






anon (Ages ago)
55






carolina peter (Ages ago)
53






melanie case (Ages ago)
51






? (Ages ago)
49






ROSE (Ages ago)
47






MR JOHN (Ages ago)
45






giphy olivia (Ages ago)
43






JOY (Ages ago)
41






Linda Gibson (Ages ago)
39






lucy (Ages ago)
37






sonia (Ages ago)
35






carolina peter (Ages ago)
33






sarah (Ages ago)
31






Olivia Jayden (Ages ago)
29






timothy alcantara (Ages ago)
27






sarah (Ages ago)
25






sarah (Ages ago)
23






Ahmed Ashid (Ages ago)
21






petermarcus (Ages ago)
19






petermarcus (Ages ago)
17






Elizabeth Matheus (Ages ago)
15






jason (Ages ago)
13






neme amber (Ages ago)
11






hrnry (Ages ago)
9






anna lucas (Ages ago)
7






Tom Kingsley (Ages ago)
5






Gloria (Ages ago)
3






Relanes Ihab (Ages ago)
1